Off To The Market Sticker Sheet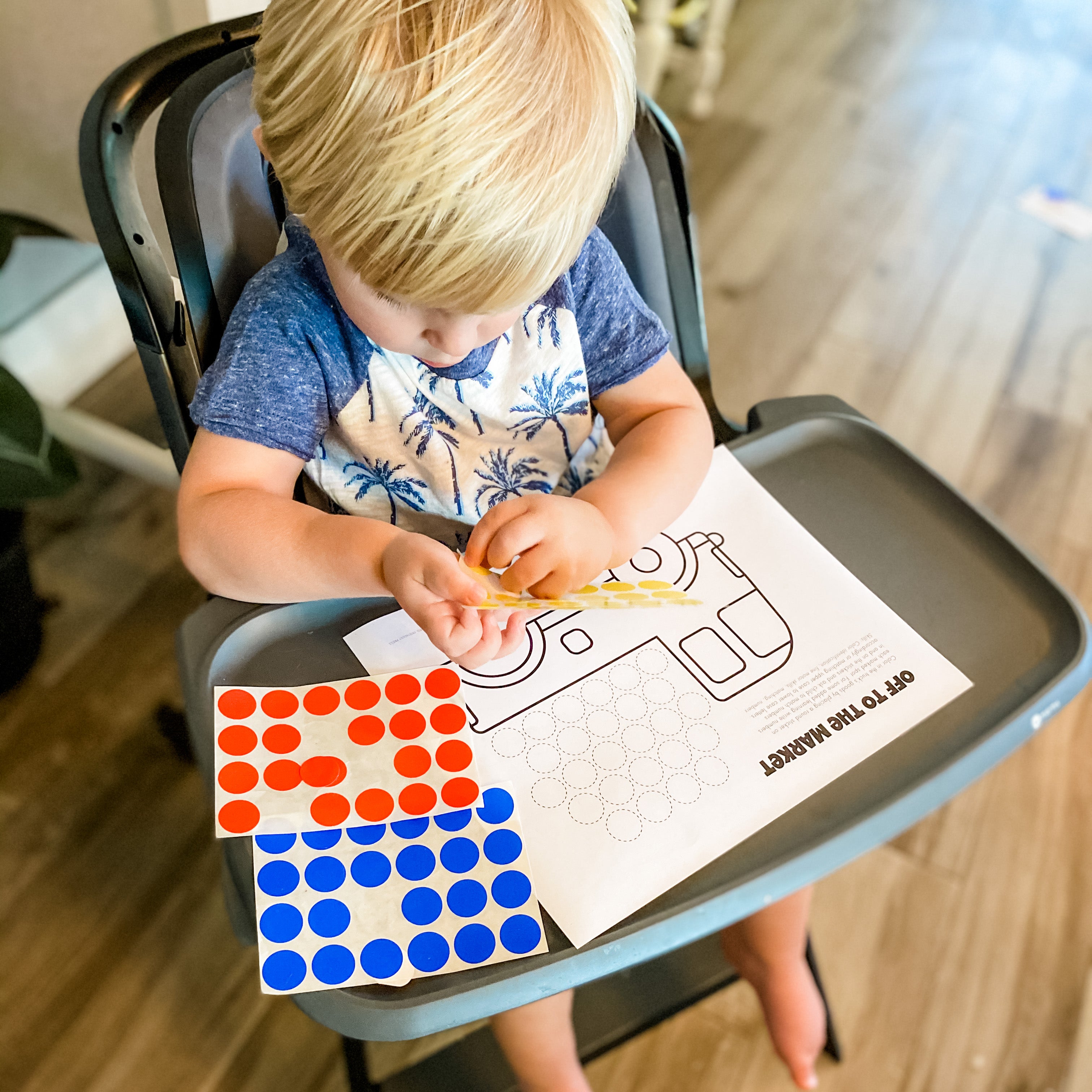 This week we are learning about the farm! Calloway has been loving all his worksheets and art activities and I hope your child has been too if you have been following along. Today, we worked on our "Off To The Market" sticker dot worksheet in an effort to improve our fine motor skills.
We had him place a sticker dot in each provided circle and increased the difficulty by having each color dot represent a specific fruit or vegetable and provided an "order" he needed to fulfill. 
Before I continue, I wanted to take a moment to let you know we do have a mommy email group that gets all of these activities and more delivered right to their email one week ahead of time with supply sheets, downloadables, activity suggestions, and more. We are also working to provide special offers and more for those in this group. Email us at hello@friendlilypress.com and let us know you too would like to be added to this free group.
SUPPLIES:
Digital Download
Sticker Dots
INSTRUCTIONS:
1. Download digital download up above!
2. Have your child place sticker dots in the provided spaces to improve fine motor skills and listening skills.
3. Increase difficulty for older children by creating a number or letter matching game with our worksheet and stickers. Or even provide your child with a list of items that the store needs and give the corresponding color for each item.
We hope you love this at-home activity! Please leave a comment down below to let us know if you are enjoying these downloadable activities, things we can improve on and more!
_______________________________________________________________________
For those that are curious, Calloway is two-years-old (27 months as of 4/21/20).
Please feel free to leave any questions, suggestions, or comments below. Also, if you see any spelling or grammatical errors please let me know so I may quickly correct. I hope you enjoyed this activity and be sure to share pictures with us on Instagram @Friendlilypress if you try them out yourself!
xoxo,
Ashley