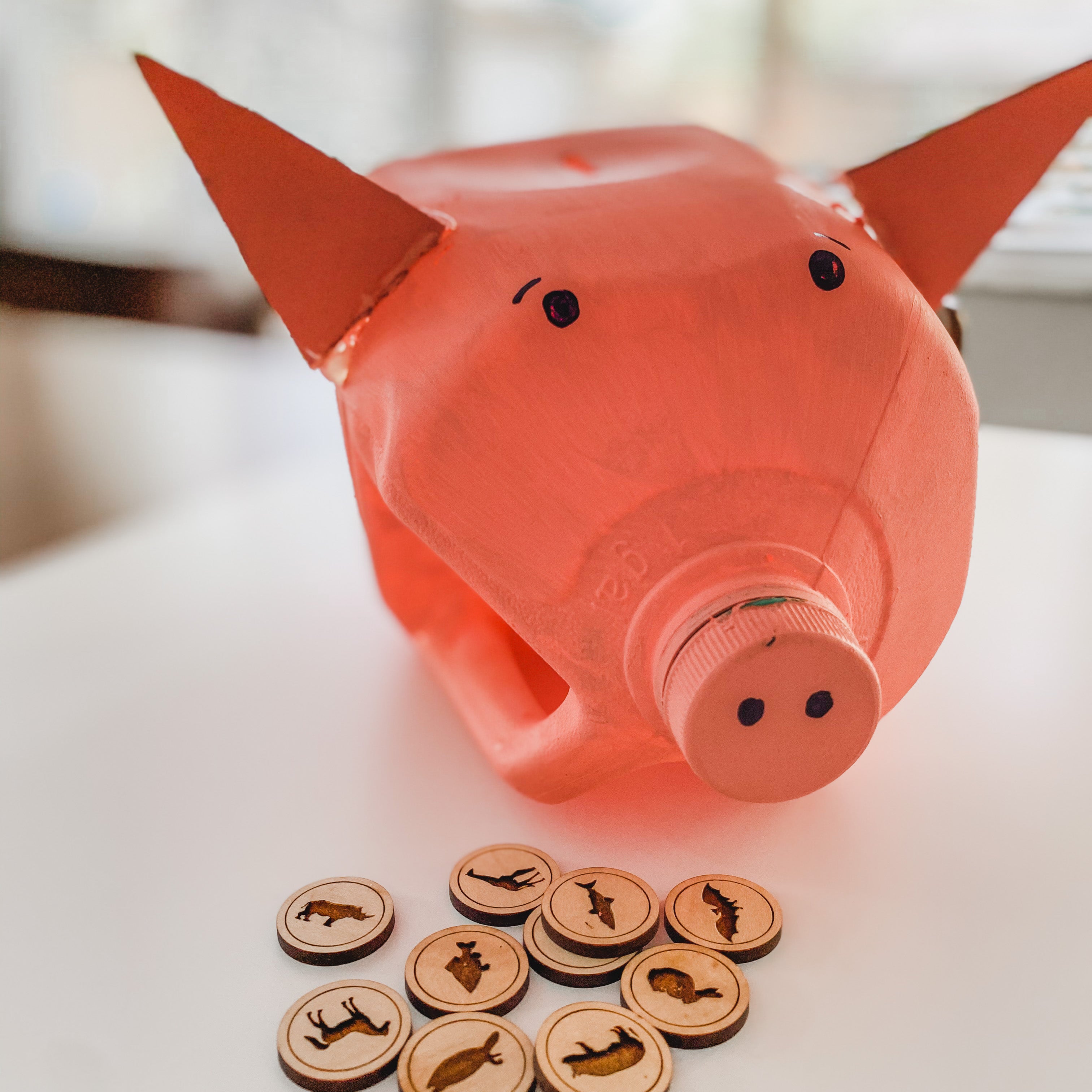 Today, we are learning about animals. Following our regular learning schedule I am creating activities that incorporate our normal learning (like numbers and letters) and associating it with something Calloway loves, animals. The goal is always to have activities that spike his interest and like hiding broccoli in your kids Mac and cheese, benefit them without them necessarily realizing it. Here is a breakdown of our schedule today and a focus on the piggy bank we made for today's counting activity.
SCHEDULE:
7:00am- Wake up, have breakfast + get ready
8:30am- Play Monkey Around (or another movement/direction based game)
9:00am- Animal Identification + the letter 'A'
9:45am- Snack time
10:15am- Counting game with our homemade piggy bank (see below)
11:00am- Free play
12:00pm- Lunch
3:00pm- Reading animal books
3:45pm- Unwrap the animals (unwrap animal figures wrapped in painters tape)
4:15pm- Digital learning (favorite apps: kids kindle apps, 'Preschool Games' on iPhone App Store, GoNoodle, ABC Mouse, Speech Blubs, Cocomelon on YouTube)
5:00pm- Outdoor play
6:00pm- Dinner
6:30pm- Bath + other bedtime routines (reading, we generally do a puzzle, etc)
7:15pm- Bedtime
So, to stick with the animal theme we recycled a milk jug and made our own piggy bank. We do have similar toys, like our Counting Cookie Cookie Jar, but nothing will beat the excitement he had this morning when he saw the piggy bank on the table. I want to go over how I put it together, supplies, and some additional things I learned along the way. Also, check the link below on how to order some animal coins we made that could be used for this and other activities.
SUPPLIES:
-Milk Jug
-Pink Paint*
-Paint Brush or Foam Brush*
-Box Cutter or Exact-o Knife
-Sharpie
-Cardboard
-Glue gun or super glue
-Some type of coin (you can use real money, paper money, or the wood coins available in our shop)

INSTRUCTIONS:
1. Thoroughly clean a used milk jug and remove any exterior stickers.
2. Cut out coin insert slot on back of "pig".
3. Cut triangles out of cardboard to create pig ears. If you want you can also create pig feet using a recycled cut up egg carton.
*4. Paint your pig. Spray paint may be the best option as I did use an acrylic store bought paint and found it did not adhere well to the jug. It tended to peel more excessively on certain spots but if you are stuck at home like us I would just use what you have. This is a recycled learning toy so it's not necessarily intended for long term use and play. If you are using a paper milk carton you may find acrylic paint works better but be aware of this issue on plastic.
5. Using a sharpie add facial features to your pig.
6. Enjoy!


TAKEAWAY:
Calloway is really gonna love playing with this. For our learning activity I did use coins we made with animals engraved on them so we can practice both counting as we add money to the piggy bank and also animal identification as we look at our coins. I am making these coins available in our shop as a 10 pack for $5 plus shipping. They will feature an animal silhouette on one side and a number 1-10 on the back. If you are wanting to do this activity at home without ordering coins consider using actual money, coins made of paper, buttons, or other like materials. Just be sure whatever you decide to use fits through the top of the carton or consider cutting a spot in the back to easily remove inserted coins. Our shop coins are the size of a quarter so its ability to fit would be based on your at home milk jug.
As mentioned in the instructions we did have issues with the paint not fully adhering to the plastic surface. We felt this was fine as it was never intended to be a long term toy for our son but rather an activity we could do for the time being. You may find using spray paint to work best if you would like a smooth and long lasting coat. However, always use spray paint in a well ventilated area. We also suggest adding any body extremities prior to paint not only for a smooth finish but also we found the ears of our pig to initially fall off but we believe this is because of the issue with the paint. 
Lastly, I will say you can see from the pictures he's not the prettiest pig in the world but Calloway was really excited and has been telling us what a pig says pretty much all morning. If you have older children you can even have them lead the design process on this project to expand the amount of time they are focused on one activity.
WARNING: CHOKING HAZARD – Game contains small parts. Not suitable for children under 3 years.
_____________________________
For those that are curious, Calloway is two-years-old (26 months as of 3/19/20). As an additional note we have to legally say that this game is not intended for children under 3 as it contains small parts that if swallowed could get lodged in the windpipe. This activity was a recreation of similar activities we have found online with the intent of occupying and educating OUR child. We are sharing this activity as a means to entertain your child as well but cannot stress enough that we do not recommend from a business that you should use for children under 3 or without adult supervision. 
Please feel free to leave any questions, suggestions, or comments below. Also, if you see any spelling or grammatical errors please let me know so I may quickly correct. Hope you enjoyed this activity and be sure to share pictures with us on Instagram @Friendlilypress if you try them out yourself!
xoxo,
Ashley